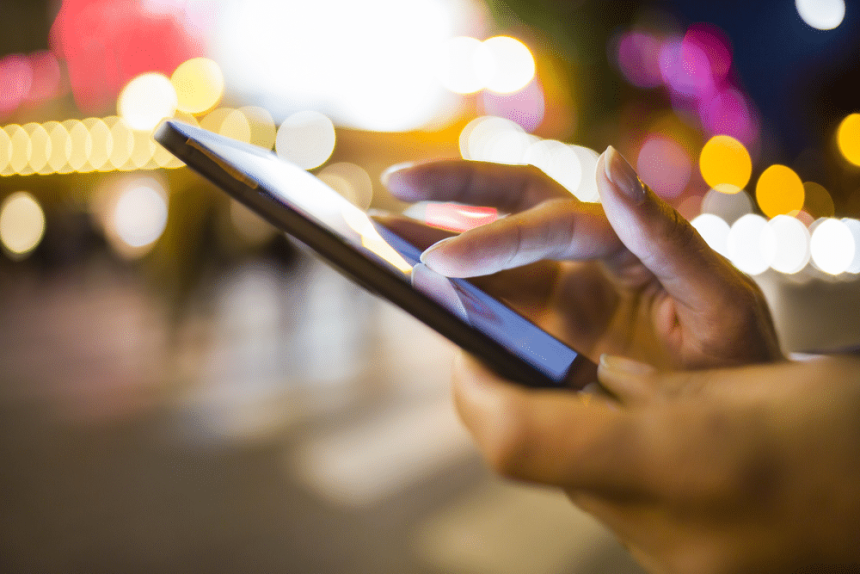 ---
While smartphone technology has been available since 1993 with the IBM Simon, it wasn't until the Blackberry smartphone was released in 2002 that smartphone technology began to gain traction in the marketplace. In 2006, smartphones represented only 6% of all U.S. mobile phone sales, which then doubled to almost 11% the following year with the release of the Apple iPhone.
Smartphone adoption among mobile phone owners in the U.S. grew from 42% in 2011 to 81% in 2016. To put this growth into perspective, consider that landline phones took 45 years to grow from 5% to 50% penetration.
Organizations and professionals need to consider how mobile technology influences their industry as well as how customers use mobile devices. In the U.S., 31% of consumers use their smartphones for payment, while nearly 2/3 of consumers use their phone's voice assistant.
The Deloitte survey also notes that some 94% of consumers employ their phones at work, while 93% use them while out shopping and 82% when eating at a restaurant. Mobile advertisers have an ever-growing number of opportunities to target engaged mobile users.
Mobile market
In spite of its rapid growth, usage, and importance, mobile is still a young and continuously evolving industry. New operating systems, apps, and technology are being released all the time, and smart organizations are turning to mobile specialists for support.
In fact, global mobile internet ad spending is forecast to reach $195.55 billion in 2019, up from $19.2 just a few years before. Mobile ads will also account for 69.9% of all digital advertising in 2018 – surpassing TV as the leading advertising medium in the world's largest ad market.
As of June 2018, Google Android phones have attained 54.1% market share, with Apple iOS close behind at 44.5% followed by Microsoft at 1% and Blackberry – once the market favorite – at only 0.3%.
For organizations venturing into foreign markets, it's important to understand mobile market share and usage within each market. In Asia, for example, Android tends to be the dominant operating system with iOS ranking third or even fourth in some Asian countries.
The concentration and spread of market share varies greatly within each region, and there can become anomalies to the rule. In South Korea, Android dominated the market share in 2010, but Windows Phone now has over 54% of the market share.
The graphs below from Stat Counter show the market share of the world's biggest markets in 2017 – 2018:
Android is predicted to be the dominant mobile operating system for the foreseeable future, with an estimated 85.3% market share by 2021. The Apple iOS, which is exclusively for use with Apple hardware, is set to remain relatively stable.
Mobile advertising
According to the Interactive Advertising Bureau, digital ad revenue has grown by 23% for the 2018 half year alone – for a total of $49.5 billion. Moreover, mobile advertising has grown to account for nearly 2/3 of digital ad revenue – or $30.9 billion – for the 2018 half year.
Although consumers access the Internet from desktop and mobile devices, most time spent online is on mobile, at a whopping 71%. As a consequence, mobile ad revenue is finally catching up to consumer usage.
Advertising that distracts the user or gets in the way of content is considered particularly obtrusive on mobile devices, which are considered more private and personal than computers.
You must consider the value that ads bring to a user's personal experience, and social media marketing and ads via apps are far more effective than traditional advertising. And they're proving to be a lot less expensive in the long term.
Mobile social media
As of the third quarter of 2018, Facebook has 2.27 billion active monthly users. Of those, some 75.1% access the platform via mobile. With mobile-only social media apps such as Instagram gaining in popularity, social media marketing is increasingly important to marketers and no longer considered a non-traditional marketing channel.
With the growth in mobile traffic, the nuance of social media has evolved to encompass messaging apps such as Facebook Messenger and WhatsApp, as messaging between users outside the traditional format of SMS significantly increases.
Bought by Facebook in 2014 for $19 billion, WhatsApp is an end-to-end encrypted messaging service that allows users to send a variety of media (including text, photos, video, documents, location, and voice calls), and boasts an impressive 1.5 billion monthly users in over 180 countries with over 60 billion messages sent per day.
WhatsApp Business was launched in January 2018 as a completely separate version of WhatsApp, but works in the same way to connect small businesses to customers.
Facebook's messaging offering, simply known as Messenger, is similar to WhatsApp and has recently introduced video calling. U.S. users are also able to send and receive money between other Messenger users.
While owning two messaging services may seem contradictory, Messenger itself relies heavily on the relationship its users have with their Facebook friends and the way they use Facebook as a whole.
Instagram, which was bought by Facebook back in 2012, has seen a huge growth in popularity. The photo filter app allows users to upload and share photos using a suite of filters and editing tools, and is very popular with influencers. It's recently added commerce features, allowing businesses to add 'buy now' buttons to their posts, and implemented sponsored ads in order for businesses to target customers on the photo-based social network.
RELATED: Understanding the Biggest Trends in Social Media
Mobile apps
Mobile apps fall broadly into five categories:
Games and entertainment
Social networks
Discovery: TripAdvisor, Yelp, etc.
Utilities: maps, clocks, email, camera, calendar, etc.
Brand apps
Games, entertainment, and social networks make up the most time spent on mobile devices. Apps designed to entertain or add value to consumers' lives have the ability to build long-term brand engagement in a far more positive and useful way than advertising.
Take Nike's "Nike +" app, which syncs with select Nike shoes to monitor speed, distance, and calories burned. Nike credits this app alone for a 30% growth in its running division. There's also the Starbucks mobile app, which has surpassed Apple and Google Apps in popularity and usage, accounting for 40% of in-store app payment usage in the U.S. in 2018.
Regardless of whether or not these apps have been monetized, they provide users with a unique, memorable opportunity for brand interaction every time the app is launched. These apps can also be used creatively to hold competitions, build social-media communities, or even run personalized ads in a more creative manner than traditional paid advertising allows for.
App development principles
While organizations are starting to embrace mobile apps, developer communities have been highly active for years, which means there is no shortage of technical talent. There are several key considerations that should be explored before starting development.
Add convenience: How will your app make your customer's life easier? Does your app make it simpler to find specific information? Does it include a store locator? Pricing calculator? Take inspiration from apps offered by banks, airlines, sports companies, and even your competitors. Note what they do right in order to make your experience even more convenient.
Offer unique value: What can a mobile app offer your customers that traditional computers can't? Is your app able to take advantage of location-based services, QR codes, or mobile social media in a unique way? The most successful apps tend not to feel like traditional marketing communications and offer users something useful and unique.
Provide social value: With social media representing the second largest portion of mobile usage after entertainment, it only makes sense to provide social value. That means integrating popular social-media features (where relevant) within your app.
This can include things like 'checking in' with Facebook, posting a Twitter update directly from your app, or the ability to send 'social gifts' to friends and family. Swedish company Wrapp allows Facebook users to send promotions to other users, offering discounts and specials across a large number of retailers and service providers.
Offer incentives: Countless apps fail because they never reach their intended audience. How you choose to reward users for interacting with your app will go a long way to keeping them engaged. If you're a retail company, for example, you could offer a product discount for downloading your app, or an automatic entry to win a prize. If you offer in-app purchases, you could also provide users with a free sample or gift.
It's important to think about how your app offers entertainment value. While it might seem obvious to make an app that revolves around your brand, organizations that put an emphasis on fun tend to reap the rewards. Beer brand Corona Extra created the Beach Break app, which helps users transform the beach from a physical place to a state of mind.
The app rewards users for unwinding, unplugging, and logging out of programs. Users collect points by checking in at specific venues, logging out of apps like Facebook, or uploading photos of Corona beer. Points can then be redeemed for branded products and prizes such as spa appointments and sports trips. This has the ability to be far more meaningful and memorable than traditional banner ads.
Games also offer unique monetizing and advertising opportunities. Game developers often make more money from in-app purchasing than selling the apps themselves. In-app purchases typically contain in-game content, such as items that can be used within the game, extra levels or chapters, character-customization, and more.
Challenges and considerations
Developing a mobile app requires that organizations implement new skill sets they are often unfamiliar with. From the outset, this undertaking can seem daunting (perhaps another reason some organizations are slow to capitalize on mobile), but with strategic planning and the right team, app development can be a smooth and seamless process.
While larger agencies typically charge a premium for app development (often including strategy and project management), freelance app developers are often less expensive and easy to find using freelance websites such as Upwork. This is largely because developers have adapted to mobile far quicker than agencies, creating a talented bank of freelancers who are ready to work.
Perhaps the biggest challenge when it comes to app development is choosing which operating system to support. The decision is currently between the iOS App Store and Android's Google Play Store.
While it is sometimes possible to develop a single app that works on both platforms, this is not always ideal due to different development frameworks between Apple and Android phones. It is preferable to develop unique versions of an app for each operating system, even when their functionality is exactly the same.
To complicate matters, Apple's App Store demands you meet a number of requirements before you can release your native app. It is therefore very difficult to create internal or offline, non-consumer applications on iOS devices.
One solution to overcome Apple's app process is to skip the process altogether and create a 'web-app' or 'hybrid-app,' which is a responsive website created specifically for mobile devices. There has been much debate over the last few years about whether or not to use native apps or web apps; however, this should not be considered an either/or argument as there are different reasons to use each.
The graphic below by Mobile Marketing Watch helps developers and agencies understand what questions to ask clients when working on new mobile projects:
App localization
There are three main ways to prepare your apps for international deployment: manual translation, software translation, and traditional localization.
Manual translation
Manual translation is suitable for simpler/smaller apps or apps that are only going to be translated into a few languages. Manual translation consists of using translators to manually translate app content. While this is often the simplest method, it is not scalable and therefore not suitable for larger apps that are regularly updated and expanded.
Software translation
Using software to translate your apps into multiple languages is the quickest way to localize your app. However, it is also the least accurate and cannot fully take into consideration locale-specific idioms and layout modifications. If accuracy and professionalism is a priority, this is not a suitable translation method.
Traditional localization
This is the most flexible, accurate, and scalable way to localize apps, as well as the most time-consuming and expensive. Traditional localization involves creating multiple instances of your apps for each locale. While the complexity and costs involved may not be feasible for some smaller organizations, this is the most professional localization method used by large corporations.
Both Apple and Android operating systems support multilingual applications for international deployment. The technical process of uploading multiple apps to app stores is straightforward and can be viewed here:
Given the myriad of mobile devices (with different screen sizes, operating systems, rendering methods, and more), the key challenge when localizing apps revolves around app degradability and limited screen real estate.
If you are translating into a language that uses larger words with more characters, your apps need to cater to this without negatively impacting user experience. The links above explore methods and practicalities of developing apps for the international market in a flexible, responsive way that caters to different copy lengths.
Key suggestions from both Apple and Android include:

Design a flexible layout. You can create multiple instances of your layout to cater to different languages.
Create multiple 'resource files' to store different user-interface files for each locale you intend to support. This means if anyone uses your app in a language different to the default language, it will load different user interface assets specifically designed for their locale.
Ensure your app can accept user-generated text in any language.
Test your localized app beforehand using an emulator.
Mobile commerce
It's estimated that, by the end of 2018, global mobile commerce revenue will reach $669 billion and is estimated to make up a total of 39.6% of all e-commerce sales.
While some m-commerce (mobile commerce) sales will simply replace sales normally made via computer, mobile sales offer a number of advantages to consumers and retailers.
It's also important to consider that while global m-commerce conversion rates are not too dissimilar from desktop – 3.63% desktop vs. 3.17% smartphone – conversion rates by region can change dramatically. Research from Monetate suggests that U.S. users convert at a rate of 1.14% on smartphone compared to 3.37% on desktop.
Conducting thorough research on the mobile shopping behavior of your target market is vital to your success in incorporating omni-channel strategies, which is often top of the list for many international businesses.
M-commerce principles
As users begin spending more time shopping online, e-retailers are increasingly ensuring that m-commerce is not only possible but also specifically designed to improve the mobile-purchasing process. People use their mobile devices differently to computers, as well as in different situations.
RELATED: Bridging the Gap Between Mobile and Desktop eCommerce Customers
Organizations that understand how customers want to be interacted with have the ability to provide the most effective and enjoyable m-commerce experience. Here are some guiding principles to keep in mind when developing a new m-commerce platform or migrating an existing e-commerce platform to mobile.
Understand your mobile demographic
Different locales, groups, and industries use different mobile devices. For instance, while Blackberry once boasted over 40% share in the mobile market, this number fell to 1.8% by 2014. Android devices such as Samsung, Huawei, Oppo, and Vivo now dominate the global market along with the Apple iPhone.
Research
By engaging in ongoing research and reviewing existing mobile/website analytics, organizations can gain a greater understanding of how people interact with their brands. They can then use this information to enhance and develop strategies. Companies with e-commerce stores can evaluate existing website analytics to understand who is making purchases via mobile and what mobile devices are being used. This is a good starting point.
Maintain brand consistency between platforms
Mobile stores should be designed to function specifically for mobile devices. This will inevitably mean there are some differences between a brand's e-commerce and m-commerce store.
Although there is nothing wrong with slight variations between mobile and non-mobile sites and stores, it is important to ensure brand consistency is maintained between platforms, since this is essential in building and maintaining brand trust, familiarity, and ease of use.
Keep it simple
Limited screen real estate, 4G speeds, and touch screens can make unnecessary complexity less forgivable on mobile devices, which is not the case on computers. Organizations should take care to ensure users are able to easily navigate products, account settings, and checkout. For industries such as tourism, hospitality and transport, speed is particularly important as customers will often make bookings on the go.
Utilize location-based services where relevant
With inbuilt GPS technology, it is possible to personalize the customer experience based on location. Retailers with brick-and-mortar stores can use m-commerce and apps to run location- and customer-specific promotions in conjunction with physical locations.
Location services provide the opportunity to run social, personal, and promotional activities in a unique and creative manner. Organizations can ensure that the use of this technology adds value to the customer's m-commerce experience.
Make mobile a part of your eCommerce strategy
It is common for online stores to be built on a responsive template that allows for mobile purchasing. This is a great way to save resources, as you do not need to develop a unique site for mobile. However, this is not always the most effective solution.
Organizations need to ensure their mobile strategy is not simply an afterthought or extension of their e-commerce strategy. The unique nature of mobile should be taken into consideration as, in some instances, a different strategy and approach may be more beneficial than using a responsive website.
This may mean having unique features for mobile; implementing technologies such as 'one-click checkout' or saving user preferences into the cache; and providing a more user-oriented, personalized mobile shopping experience.
Survey your customers
Surveys and customer feedback play an important role in developing new e-commerce offerings and strategies. To better understand the potential of mobile within key demographics, organizations need to ask for feedback on their users' mobile experience. This could be as simple as a feedback form presented after checkout.
Research
Mobile devices, operating systems, and technology are being developed at an extremely rapid rate. Every year, hundreds of new handsets are released along with several operating system updates for every platform. Occasionally, we see major game-changing enhancements in the web and mobile world that have a greater impact on the way business is conducted via mobile.
HTML5 and Cloud Computing are two examples that have emerged in recent years. Biometric technology is commonplace on devices, including the Apple iPhone, and has already had a dramatic impact on the way users pay for goods and services, both on- and off-line.
It is important for organizations involved in mobile and m-commerce to allocate time and funds for research, and to understand the impact that new technology, handsets, and features have on the mobile industry as a whole.
M-commerce localization
M-commerce stores are not apps, but rather responsive websites or websites developed specifically for mobile. This means the localization process is derived from the main website. As with app translation, the general concepts remain the same.
Since most online stores follow a similar layout and purchase methods, full localization and translation is sometimes not needed for smaller stores selling niche items.
Providing products in different currencies and giving users a localized checkout page can suffice in many cases. However, for larger stores with a wider audience, full localization of product descriptions and promotions may be necessary.
There are many ways to approach web translation, and most advanced e-commerce platforms will provide the technical framework within their CMS (Content Management System) to allow for multiple languages, currencies, and postage prices.
The most important consideration for handling the shift from e-commerce store viewed on a computer to m-commerce store viewed on a mobile device is how the responsive design is implemented. The most effective way to ensure this shift works properly is through testing the online store on multiple devices in all supported languages. Responsive technology is much more reliable than it has ever been, but developers often need to make changes to the mobile layout.
Key takeaways
Smartphones and tablets are part of everyday life for the majority of the developed world. There is no denying the impact that mobile continues to have on business, personal life, advertising, marketing, and communication. As this technology evolves and becomes smarter, organizations will need to develop a keen awareness about how to leverage this technology to reach their audience.
A shift in the way organizations approach advertising must be considered with mobile. Traditional advertising is not effective, and can even be perceived as offensive when presented on users' personal devices.
This marks an evolutionary step in the way people wish to be communicated with, and organizations who take bold, creative steps to engage with audiences are being rewarded. Relevant social media marketing, apps, and games are leading the way in terms of providing engaging, personal platforms for brands to communicate with, and not just to, their audience.
As technology and tools become streamlined, integrated and user-friendly developmental challenges will inevitably become easier to create, allowing organizations to focus on strategy.
Key considerations to keep in mind when working with mobile include:
Research your target audience
Research and understand your market before you start developing. While Android is the worldwide leader, it is not always the leader in individual countries.
Don't just translate…localize
When working internationally, be sure to localize and not simply translate your content. If credibility and customer perception are important to your brand, you must ensure that you use qualified human translation and localization services. Do not underestimate the importance and multiple differences of localization.
Think social when developing mobile
Think social media marketing and apps, not advertising. Customers do not want to be sold to, particularly on their mobile devices, which are considered personal spaces.
Understand different technology
Understand the differences between native apps, web-apps, and hybrid-apps before committing to one.
Think about the customer benefits of your mobile offering
Consider how your app will enhance, engage with, or entertain users. The most successful apps enhance its users' daily lives.
Written by Demetrius Williams
Demetrius Williams is a Digital Marketing Specialist at TranslateMedia and has previous eCommerce experience working with a number of luxury brands in the fashion and beauty industry. He enjoys photography, binge-watching Netflix and can often be found roaming around London with a camera in his hand.
---
Related posts